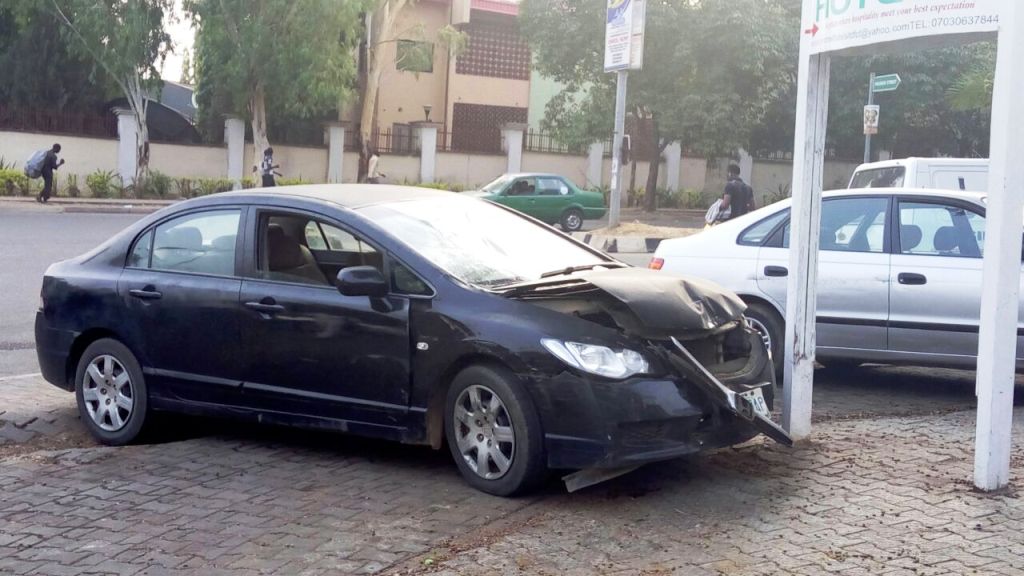 A crash involving a Honda civic car and a stationary vehicle along Aminu Kano Crescent in Wuse II, Abuja Friday evening left one person dead.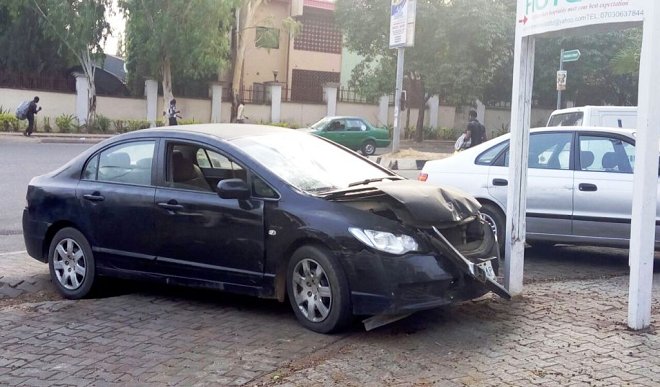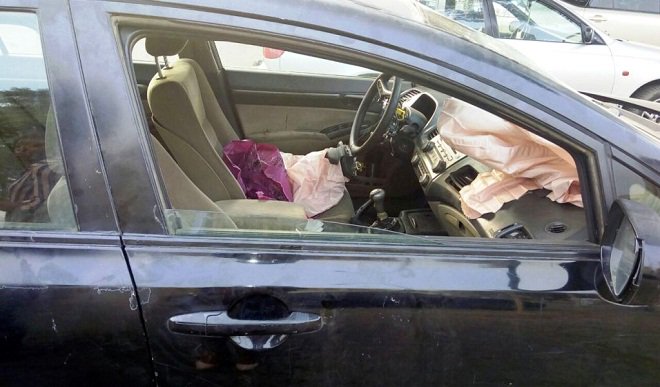 The deceased whom eyewitnesses identified as Gabriel Aduko from Kogi state, was said to work in an empowerment centre at a plaza close to the scene.
An eyewitness who identified himself as Francis said that the driver was trying to make a U-turn when he seemingly lost and crashed into a stationery vehicle.
"The owner of the vehicle was not involved in the accident it was a colleague of his that was driving. He had 2 passengers with him, he was trying to turn, hit another car, lost control, then the airbag popped."
Francis added, "The airbag control came out and hit him in the forehead, that was what caused the seizure and he died instantly, but the passengers were not injured."
Katherine Wankyo who owned a shop at the spot where the incident happened placed the time of the accident at 4:01 PM.
She said it took about 45 minutes before a policeman came on the scene.
She also stated that there were two passengers in the car who were not injured, noting the other car involved in the accident was not damaged as the driver later drove off.
Another eye witness Abdullahi Musa said the owner of the stationary car had come to pick-up laundry.
Friday, who said he was from the same community as Aduko, narrated that he was at his workplace when he called Aduko's phone number on several occasions with no success.
He later found out Aduko had been in a crash not far from their office plaza.
Friday also stated that they both work in the same building at Aminu Kano Crescent, Wuse II.
Friday said he confirmed that the corpse was taken to Maitama hospital.
He insisted that the vehicle belonged to the deceased and expressed fear that it might be stolen if the security operatives do not keep an eye on it or tow it away from the scene of the accident.
The traffic police who was the first respondent on the scene confirmed the driver was killed in the crash and his remains taken to Maitama district hospital.
He however did not confirm the identity of the deceased.